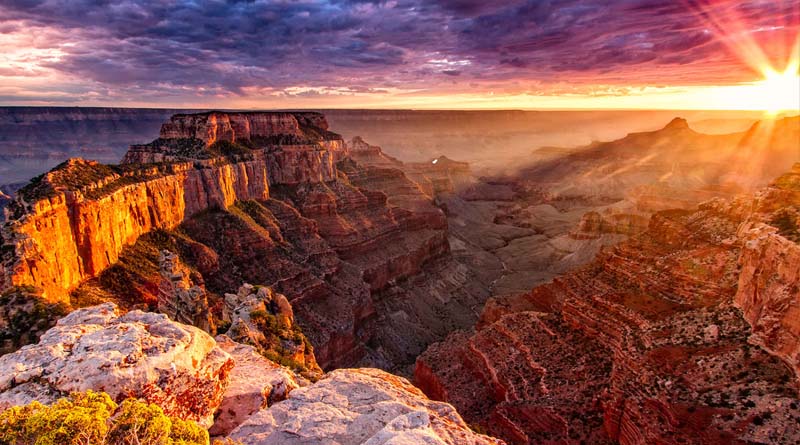 Las Vegas is world-famous for its casinos, pubs, and nightlife. But, it is also strategically located to some of America's best outdoor attractions. Tourist attractions like Hoover Dam, Red Rock Canyon, etc are just a few miles from the Las Vegas Strip. The Grand Canyon is also one of those natural attractions near Las Vegas. It is a famous canyon in Arizona formed by the Colorado River. It is a UNESCO World Heritage Site and is considered one of the Seven Natural Wonders of the World.
Grand Canyon Tour from Las Vegas
While the Grand Canyon National Park might seem like a stone's throw from Las Vegas on a map, the reality is that it's a scenic 300-mile drive by car. The absence of a direct highway means the journey takes approximately 4 hours each way, making a round trip an 8-hour affair. It can make for a tiring day trip, so consider breaking up your journey with an overnight stay at the canyon. It will allow you to savor the experience at a leisurely pace. Also, you'll get more time to appreciate the park's wonders with your companions.
The Grand Canyon is home to a variety of plant and animal life, including the Kaibab squirrel, the California condor, and the Grand Canyon rattlesnake. It is also among popular destinations for hiking, camping, rafting, and mule rides.
Selection of Limo for Tour
For transporting 1-3 passengers, you can opt for a black car service (typically an entry-level limo like Lincon Town Car). To go in style and luxury, you can choose an SUV like a Lincoln Navigator or a Cadillac Escalade that can hold up to 6 passengers and plenty of luggage. The traditional stretch limousine is always the best choice and can seat up to 8 passengers.
For groups, a sprinter van is the best option for transporting up to 15 people. For groups of 20-40 people, you can hire a shuttle bus or a party bus.
====================================================
BOOKING IS OVER A CALL AWAY – 702-861-0006